Book and manage trips quickly with easy booking
Easy booking makes it so you can view and change your trips wherever you are, whenever you want, in a matter of minutes.
You like to get things done? You'll love GetGoing.
Log in and get going, that's it!
An all-in-one travel platform that doesn't require you to download and install software, or follow long training sessions. Because you have better things to do. And booking trips shouldn't be that hard.
With GetGoing, you only have to log in to book, view, change or even cancel your business trips in minutes. GetGoing is ready when you are.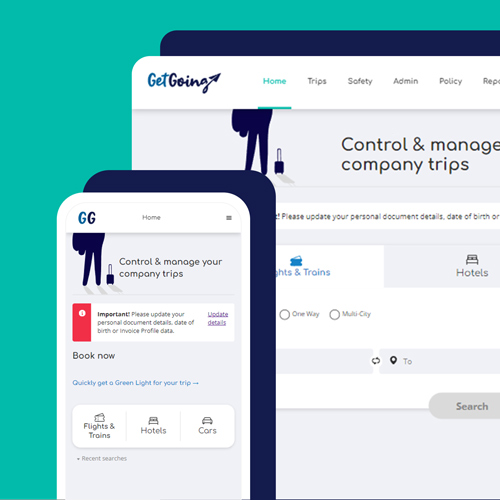 Fast, effective & easy booking
Book and manage your trips the GetGoing way
Book faster with your own traveler profile
Make booking easy and faster. Securely store and manage your personal details and travel preferences directly in your travel profile. Handy!
Millions of travel deals at your fingertips
Close all your open browser tabs and stop wasting time searching the internet for the best prices. GetGoing includes travel deals with up to 25% savings on trip costs. Take advantage of millions of options for easy booking hotels, flights, rental cars and rail, all in one place. It even includes your favorite travel deals from popular sites like Booking.com and Expedia, as well as our own negotiated rates.
Pick the safest flight for your trip
Travel safety starts when you plan your trip. GetGoing's Go Safe feature helps you pick the safest flight route. It sorts your flight results and puts safer options like direct flights or flights with connections in lower-risk countries first.
Expert service & assistance
We're right here, every step of your way
Sometimes things go wrong. Instead of crossing your fingers and hoping for the best, there's always a GetGoing expert to fall back on. To help you with company travel bookings, get the best travel advice or lend you a helping hand when disaster strikes. A call or click is all it takes.
Travel policy? Nothing for you to worry about.
The GetGoing platform comes with great and powerful options to automate your company's travel policy. With the platform doing all the heavy lifting, you won't have to worry about a thing. With every business travel booking you make, you'll automatically follow your company's travel policy. Everybody wins!
With GetGoing's automated pre-trip approval flows, you can share your travel bookings with your company's approver directly in the platform. Got the green light? With a simple click you turn your travel plan into a final booking. Let's go!
Travel risks and requirements seemingly change by the minute. How can you be sure you're making the right decisions to get to your destination or back home safely? Our COVID-19 Info Hub contains everything you need to make plans for safe travel.
Experience first-hand how business travel should be
Book, manage and optimize your business travel with just one platform for the entire team.