The business travel industry is constantly changing, and with these changes comes new needs and expectations on behalf of business travelers. These new travel habits have certainly opened up new avenues for startups, providing a unique opportunity to capitalize on emerging trends and address important but previously unmet customer needs.
In this article we have put together an overview of the best travel startups for business trips for you. Whether it's a travel management platform or a jet lag app, there's something for everyone to make your everyday life on business trips easier and more relaxed.
Best business travel startups
Here's our list (in alphabetical order).
1. Airalo
Airalo is an app that provides digital SIM card storage so you can avoid high roaming bills abroad. With Airalo eSIMs, you can download and install digital data packages from over 200 countries or regions and be connected anywhere in the world in just seconds after you land. The SIM is integrated into the hardware of devices and works 100% digitally. You can purchase an eSIM package for your destination, install it before you travel, and immediately connect to a mobile network upon arrival.
Airalo is an American startup with team members from all over the world. The global team is present in over 44 countries and six continents. This is a great option for businesses so that travelers don't have to rack up expensive phone bills when traveling ab
2. CityMapper
Citymapper is a public transportation app and mapping service that displays transportation options between any two locations in a supported city, usually with live schedules. The app integrates data for all modes of transportation, including walking, cycling and car routes, in addition to public transport. Citymapper is free for users and supported by a mobile app and website, which makes it a must-have companion on any business trip.
Citymapper's underlying data, which launched in London in 2011, comes from a variety of sources, including open data (typically GTFS files provided by transport authorities) and information from local transport authorities. Some data is user generated or collected by on-site personnel. The company currently offers its services to more than 50 million users in 100 cities.
3. GetGoing
GetGoing is a user-friendly, cloud-based platform for companies to plan and organize business trips. This allows you to book and manage travel while optimizing your company's travel spend and growing business. And when you need it, you can turn to real business travel experts for support and top-notch advice.
The company offers a one-stop shop for business travel bookings and management, travel deals, travel policy integration and automation, traveler security features, a travel dashboard and reports, and support from real travel experts.
GetGoing offers a hybrid self-service solution for managing all aspects of business travel and for those who would like to be supported by travel experts when necessary. GetGoing makes business travel practical for everyone in the company, from decision makers to office administrators and travelers, by leveraging travel technology. The platform offers an easy-to-use business travel solution to manage business travel in one place: booking, travel policy automation, reporting, travel security and expert support.
4. Holibob
Holibob is a platform that creates unique, immersive travel experiences that increase bookings and deepen customer relationships. This is an experienced e-commerce engine that brings together the world's best "Things to Do" into a single, curated collection of experiences, making it easy for any travel brand, DMC or tour operator to offer experiences, including Bleisure. Use this travel app to book a tour during your bleisure time so that you take advantage to get to know the city or place you're visiting for work.
5. Time shifter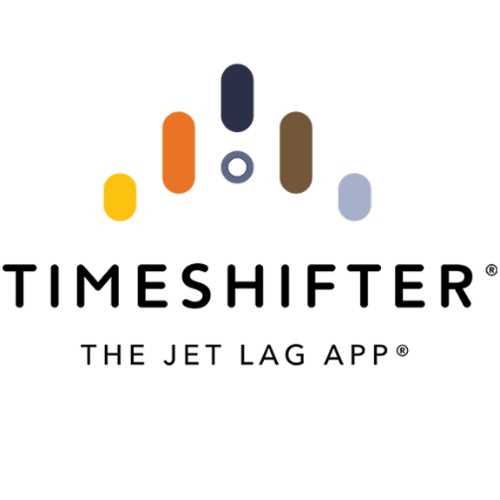 Timeshifter is the highest rated and most downloaded jet lag app in the world. This app cleverly uses your circadian clock to ensure you're exposed to the right light at the right time to speed adjustment when traveling across time zones. Seeing light at the wrong time will worsen your jet lag, which you can overcome with this app. For business travelers traveling abroad this app is a great solution to combat jet lag.
Timeshifter uniquely combines the elements proven to reset the circadian clock (light-dark exposure and melatonin supplements) and relieves symptoms (through light, melatonin, caffeine, naps). There are many scientific studies supporting the benefits of the approach and the algorithm has been used for many years by NASA, F1 drivers and elite athletes and more recently by Astronauts and mission controllers used at Axiom Space.
6. Uber

Uber is an American transportation company that primarily provides ride-hailing services to individuals who can hail a vehicle using the Uber app on their cell phone. The San Francisco-based company offers additional services such as food delivery, package delivery and freight transportation in the United States and around the world.
Uber has revolutionized the ride-hailing and taxi industry by setting fares using dynamic pricing. This is a model based on local supply and demand in a specific region at the time of booking. The company is present in 70 countries and over 10,500 cities and has over 131 million monthly active users and 5.4 million active drivers worldwide, with an average of 23 million rides per day.

The Uber app, launched in 2009, allows you to submit a ride request that is automatically sent to Uber drivers in your area, informing you of your location and desired destination. The accepting Uber driver will then pick you up and drive you to your desired destination for a pre-agreed price. If you decide not to rent a car for your business trip, Uber is a great option to get around from meeting to meeting.
Want to learn more about how to make business travel easy? Schedule a demo and find out what GetGoing can do for you.